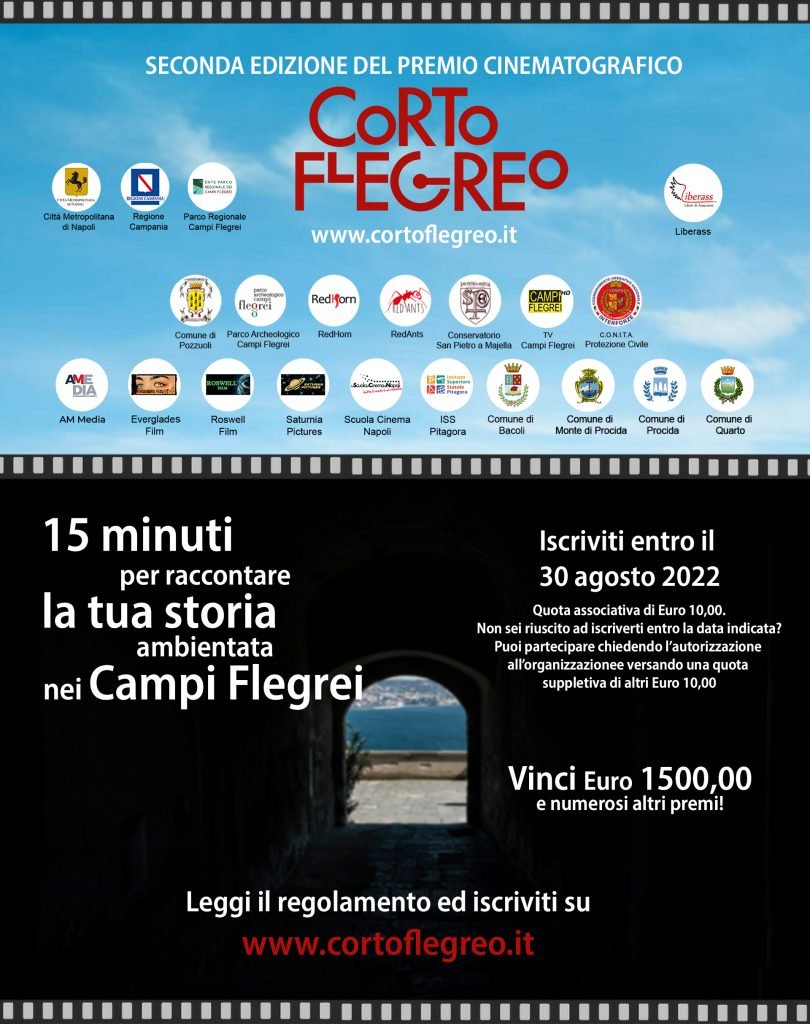 Sono aperte le iscrizioni alla Seconda Edizione del Premio Cinematografico Corto Flegreo!
Cos'è Corto Flegreo?
Il Premio Cinematografico Corto Flegreo è un concorso, aperto agli amanti del cinema, ai giovani, ai videomaker professionisti e non. I partecipanti sono invitati a produrre un cortometraggio (della durata massima di 15 minuti) dal soggetto libero, che abbia come ambientazione il territorio dei Campi Flegrei e i suoi siti archeologici. Numerosi sono i premi in palio assegnati ai vincitori.
The "Corto Flegreo" Award was created with the intention of stimulating a major
cultural and tourist interest towards the Phlegraean territory.
Numerosi sono i comuni, gli enti, le aziende e i personaggi che collaboreranno in questa seconda edizione.
Cosa potrò realizzare?
É prevista un'unica sezione aperta a tutti gli amanti del cinema, ai videomaker o professionisti.
Oggetto dei Cortometraggi, che dovranno avere durata max di 15 minuti (comprensivi di titolo di coda e sottotitoli in lingua inglese) è il territorio flegreo: Pozzuoli, Bacoli, Quarto, Monte di Procida, Procida.
Possono concorrere anche Cortometraggi già realizzati girati nei Campi Flegrei
Quali sono i premi in palio?
Con Corto Flegreo puoi vincere Euro 1500,00, la distribuzione del tuo cortometraggio, una vacanza a Procida, e numerosi altri premi!
Come posso iscrivermi?
Puoi iscriverti esclusivamente tramite il nostro sito web: https://www.cortoflegreo.it/iscriviti/
QUOTA D'ISCRIZIONE
Versa entro il 30 agosto la quota d'iscrizione di Euro 10,00.
Non sei riuscito ad iscriverti entro la data indicata?
Contatta l'organizzazione a info@cortoflegreo.it, una volta autorizzato potrai versare la quota d'iscrizione di Euro 20,00.
DOCUMENTAZIONE
Scarica e compila il modulo adatto ed allega una foto fronte e retro del tuo documento.
Se sei minorenne, dovrai farti autorizzare da un genitore.
INVIO
Invia la documentazione a info@cortoflegreo.it
Ti invieremo una email con l'approvazione dell'iscrizione e i dati per effettuare il pagamento della quota d'iscrizione.
www.cortoflegreo.it